It was expected that in 2020 I would receive another task at the end of the year – the annual recap, Piksel in 2020.
And as the year was, so was my completion of this task in the same year – it just wasn't happening. So here I am in 2021, with a fresh perspective on what happened in the previous 12 months.
I must admit that it's still unreal that I'm writing a review for 2020. I'm still in my right mind in March when all the madness started. But let's not jump too much through the timeline, let's go back to the beginning.
As usual, we started the year with a new round of Piksel memes.
And yes, even in such a year, we enriched the Piksel team with more Piksels. We welcomed to the team Filip – the SEO wizard, Angela – the all-round kick a** account manager, Trajko called Dziki – the copywriter & #hehence master, Ivana – the office manager/organizational guru and two reinforcements from abroad, Kate – the pro account handler & content creator and Nate – the all round design & marketing pro.
And now, back to work…
In 2020, we already started the story with Tikvesh and Bohemian's conversations. Something that came to us naturally as self-proclaimed bohemians and lovers of good tikveska brandy and exceptional wines.

Before the lockdown happened, we managed to organize an event together with EOS Matrix for the presentation of their "European Payment Habits" survey that EOS has been conducting for 12 years in a row.
From there, we learned a lot of valuable information, from which our team singled out: 5 steps to learn how to film events!
On the subject of live events, for well-known reasons, it was the first and last Piksel live event of 2020.
In the first months of the year, our development and web design team was quite busy. We developed a landing page for Bimilk's new product, Bitolsko fresh milk with vitamin D3, and a very addictive game for the refreshed and upgraded product portfolio of Bimilk – Bitolsko with 10 vitamins. Months later, we're still playing it.  🙂
Aaaand, this is where the COVID-19 crisis started. Of course, not knowing how to deal with the new situation, we did what we knew best. A new round of memes, this time Quarantine edition, as the most effective medicine in the battle against the virus.
After the phase of creating memes and getting used to the new situation, the real challenges for Piksel in 2020 have begun.
I won't lie and tell you that we managed easily and that working from home was great for us. At first, it sounded fun, great, we will all work from home… But soon, communication challenges started in the team. To find a way to communicate and be up-to-date with all the new requests from customers, and at the same time learn to function in a world where you can't see your loved ones, you have to sit at home, and you have to disinfect everything that you order online was not easy.
There were a lot of meetings, a lot of calls, a lot of nerve-racking… Something that, as a team, took time to overcome, but…
With a Piksel team like this, I think anything can be overcome.
After strengthening our team's communication and finding a way of functioning in the "new normal," the challenge was to do the same with customers. Let's find a way to be active and not stop with marketing activities but be careful with the social component and keep in mind all aspects of the situation.
A topic elaborated by Vladimir Ristevski, our CMO, in the interview for Business Info under the title: "If you have a product that responds to the crisis, you must not allow yourself not to advertise." Take a minute to read it – the information shared in the interview may still be useful to you.
During the quarantine, our design team decided to present "Piksel Quarantine Cosmetics." Stranger things were happening during the quarantine, don't judge.
The idea was to make up for the things that we missed the most during the quarantine in an interesting way. The smell of linden trees in spring in Skopje, hugs with your best friends, or the smell of your favorite pub… cosmetics intended for maintaining a healthy body and a healthy spirit.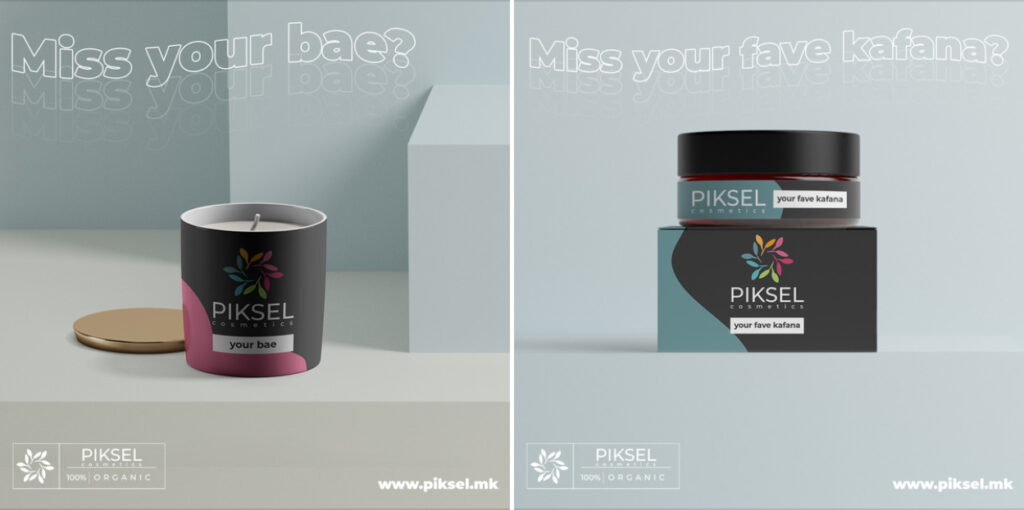 Check out the entire collection at the link.
Sometime in May, we became (again, self-proclaimed) work-from-home experts. We even wrote a whole blog post about it. Like any good written word, we had our critics.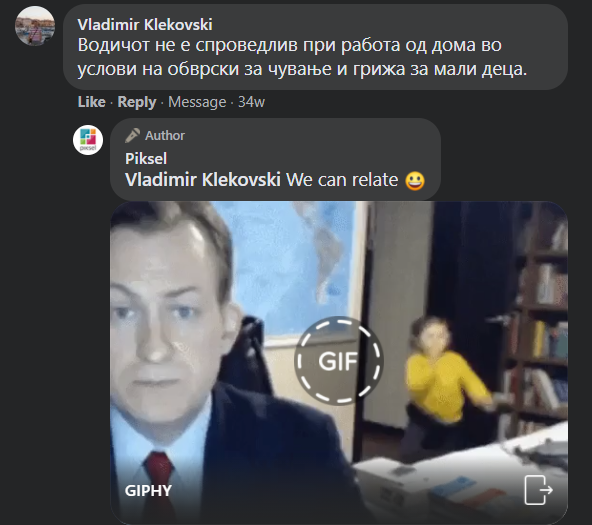 *Part of the Piksel team can relate to this. 🙂
Contributions of Piksel in 2020
Knowing that many businesses are in a difficult and unpredictable situation, we wanted to contribute to their promotion and survival efforts in a quickly digitized world. For this purpose, we have created an e-book with practical tips for the survival of your business. You can still download the free e-book.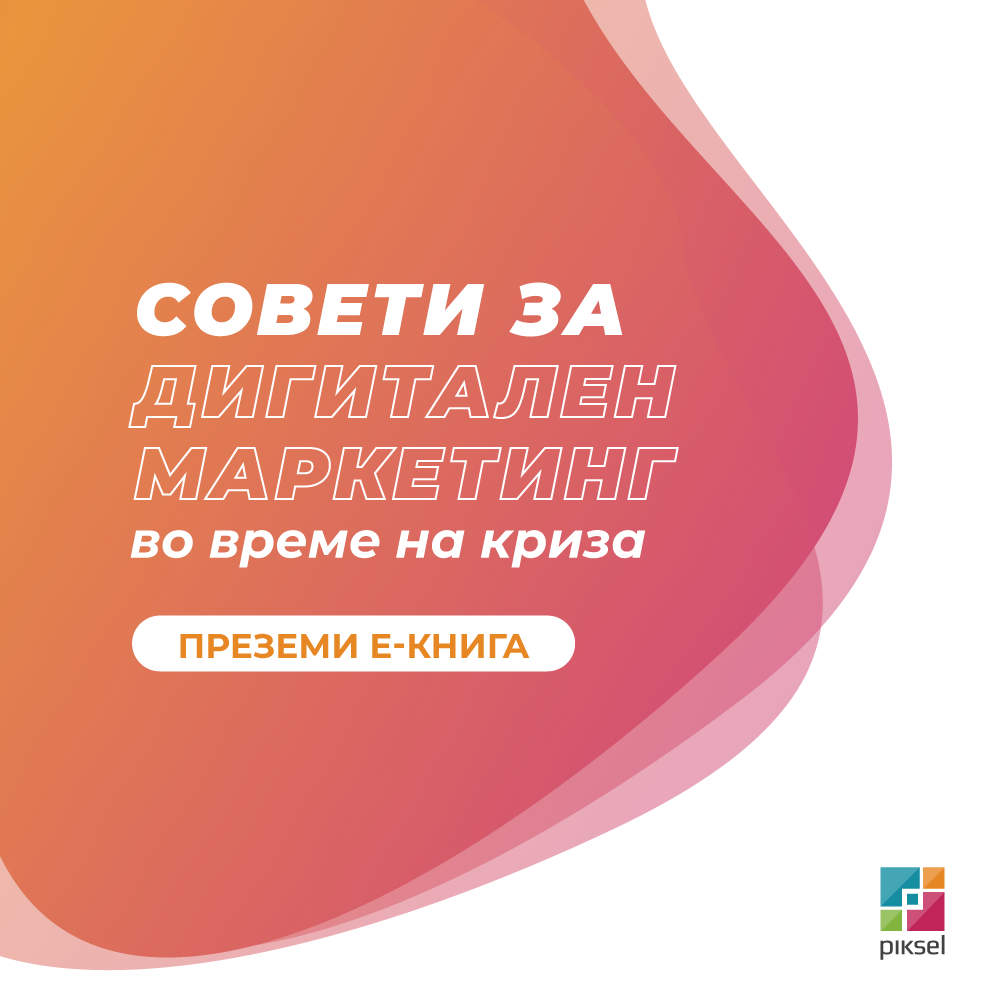 This was also the right time to look back and ask our customers what they think of us. Like every digital person in 2020, we decided to put those nice words on social networks. Yes, on all social networks!

We are grateful to have such collaborators and even more satisfied when we receive positive comments on our invested work.
To keep up with the trends, Piksel in 2020 held the Piksel elections in which the Go-green team emerged victorious.
Naturally, during the heightened effects of the crisis caused by Covid-19, it was necessary to pay more attention to prevention to protect public health.
Therefore, with Ohridska Banka, we have encouraged digital habits among the population, such as using contactless payment cards for quick payments, avoiding queues, and using the website, mobile and electronic banking as products that offer complete banking services.
At the start of the new academic year, we presented something fresh. Complete design and development of Skopje East Gate website – the first project of its kind in the country, which incorporates a shopping mall, residential complex, and business park, to introduce new standards of urban living.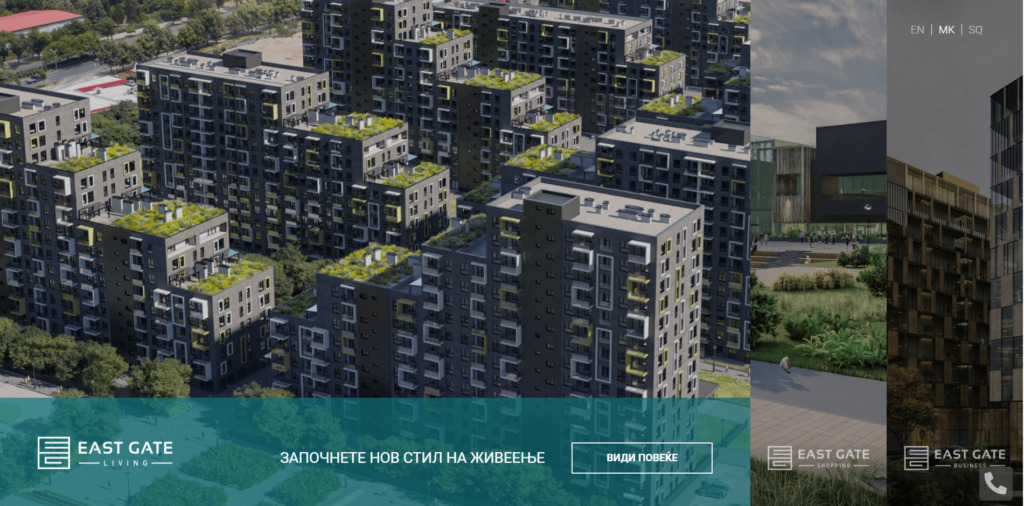 Since we are nearing the end of the year, I will summarize it through our work, and it looks like this:
We started the year properly with a toast to our loved ones with the best Macedonian wines of Tikvesh.
We strengthened immunity with Bitolsko milk with 10 vitamins, cooled down with Bitolski ice cream with 10 vitamins, and enjoyed moments with the little ones with Bitolosko chocolate milk.
We educated and raised awareness about COVID-19 and protection measures with Roche Macedonia.
With InPlayer, we have brought the world of online streaming services to an ever-increasing number of people worldwide.
With Taskforce, we proved that "Macedonian value" has its own special meaning, brought their team closer to the world, and celebrated all their successes.
During the quarantine period, we increased our friendship with the wines of Tikvesh. As expected.
We began to think seriously about the future when we started the partnership with Sava Pension Company and Sava Insurance.
With Sava Insurance, we ensured your pets are always insured with Pet Vet. With Sava Pension Company, we launched a micro-blog so that you are never alone, and we tried to make you Savers with a Plan!
We continued to create healthy habits with Balans Plus Immuno and Balans Plus Meals.

We laughed and played with Oho Productions and their Prespav and 5+ family.
A strong finish for Piksel in 2020
The end of the year was somehow connected with the beginning of the heating season, so the success story with Aircon led to a great promotion and highlighted why Aircon is #1 on the market in Macedonia and globally.
As the year was ending the team that worked tirelessly to create a new website for CityFashion finished the final preparations needed to successfully launch a completely new online web shop that brings together some of the world's most famous brands in one place.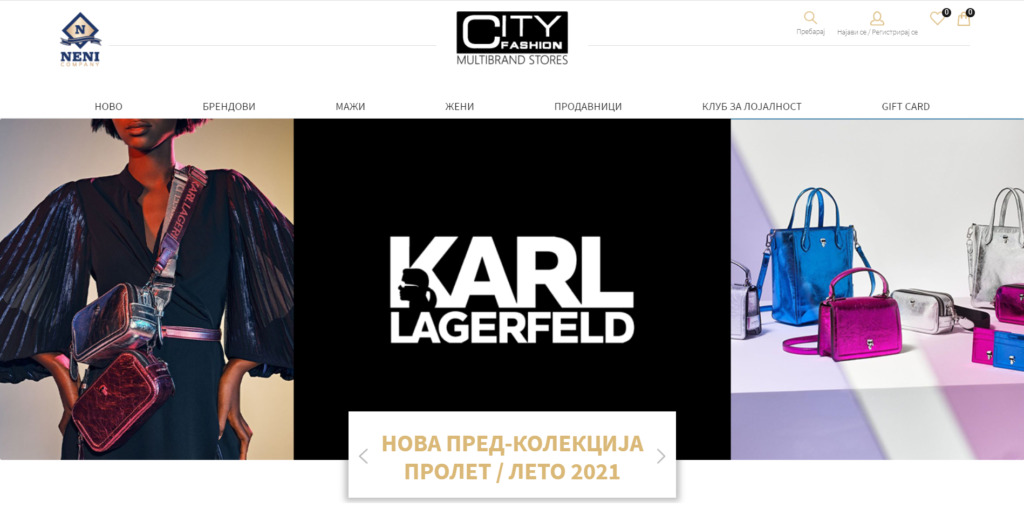 With the achieved results, in a really short time, it turned out that although we spent a large part of the time at home this past year, we still cannot resist unique pieces of clothing. Especially when they can reach us at our home address. And, of course, style cannot and must not suffer.
But that's not all. The very end of 2020 also brought us a socially responsible campaign, developed with the European Business Association, for promoting the Circular Economy, its importance, and the importance of recycling and reusing – something that we as a team try to do in our offices, too.
Some of the challenges remained in 2020, while some continued in 2021. I am sure it will not be easy, but it is a challenge that I believe our team will overcome.
And in 2021, I hope we will also leave our #FirstWorldZoomProblems behind us.